Sample Code : Subscriber Information Dump
The Subscriber Information Dump example application shows how to pull most of the useful information off a subscriber in SQL and dump a human readable format of that data to a text box.
<![if !vml]>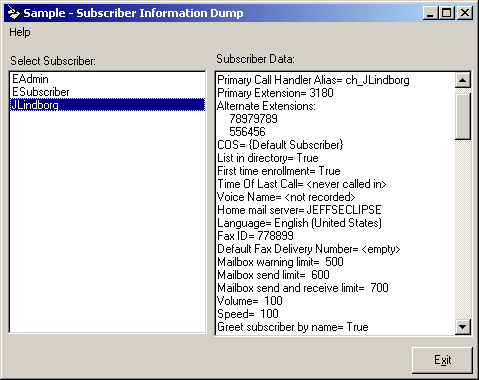 <![endif]>
A good portion of the data associated with a subscriber is actually contained in a call handler tied to the subscriber called their "primary call handler". This application does not show that information, you can refer to the "Call Handler Information Dump" routine for details on how to parse through their call handler. The only difference you need to worry about is the primary call handler should only use the alternate contact rule (subscribers have only one transfer rule exposed). Other than that, primary and application call handlers are functionally equivalent.
This application is designed to run on a Unity 4.0(1) or later server – it has no logic built into it to bind to the UnityDB database remotely. There are other sample applications available on CiscoUnityTools.com that deal with that if you wish to go "off box" with such functionality.
NOTE: This, as with all the code samples on my site, are written against and tested with Unity 4.0(2) and later. Many will work fine with 3.x versions of Unity, however we will not help you with problems you may encounter due to subtle (and not so subtle) differences between the versions.
You may use and modify this and all code I post on CiscoUnityTools.com (AnswerMonkey.net) any way you wish without crediting me or Cisco Systems. Just think nice thoughts about us when you do it.
IMPORTANT: This source is provided "as is" and includes no warranty or guarantees of any kind. Short story - you use it, you're responsible for what happens. End of story. Test heavily before deploying in any kind of production environment. Cisco TAC (Technical Assistance Center) does NOT support the use of code to administer Unity by anyone in the field so they will not assist you with problems you may encounter.
For assistance with this and all sample code posted on CiscoUnityTools.com or other programmatic administration issues you have with Unity 4.0(1) or later, please visit the Cisco Unity Forum. We will do our best to help you there. We will not assist with programmatic administration of systems earlier than 4.0(1).
To check for updates to this tool, visit http://www.CiscoUnityTools.com
Version 1.0.2
<![if !supportLists]>

<![endif]>Updated for 4.0(2) release
Version 1.0.1
<![if !supportLists]>

<![endif]>First release of sample application
© 2003 Cisco Systems, Inc. -- Company Confidential