Audiotext Manager for Connection
Version

1.0.45

Last Update

10/20/2017

Statistics
1

10 meg self extracting EXE install file.

Compatibility
Unity Connection 7.x
Unity Connection 8.x
Unity Connection 9.x
Unity Connection 10.x
Unity Connection 11.x
(requires

Informix ODBC Drivers

to be installed)
OS Support
Win 7, Win 8, Win 10, 2008R2, 2012R2
May require administative rights on Windows client
Requires .NET 4.5 or later
Support

TAC supported
Description
ATM Basics Training Video - 20 minutes - covers the top level view of what ATM is and why you'd want to use it.
New in 1.0.43 - Visio Diagrams of Auto Attendant Trees
A big thanks to CiscoUnityTools hero Rick Arps for providing binaries that allows construction of Visio diagrams showing auto attendant tree details in a useful visual way. Here's a quick screen shot of part of a Visio diagram you can generate if you have Visio 2013 or later installed on the box you're running ATM on - see the help for more details:
<![if !vml]>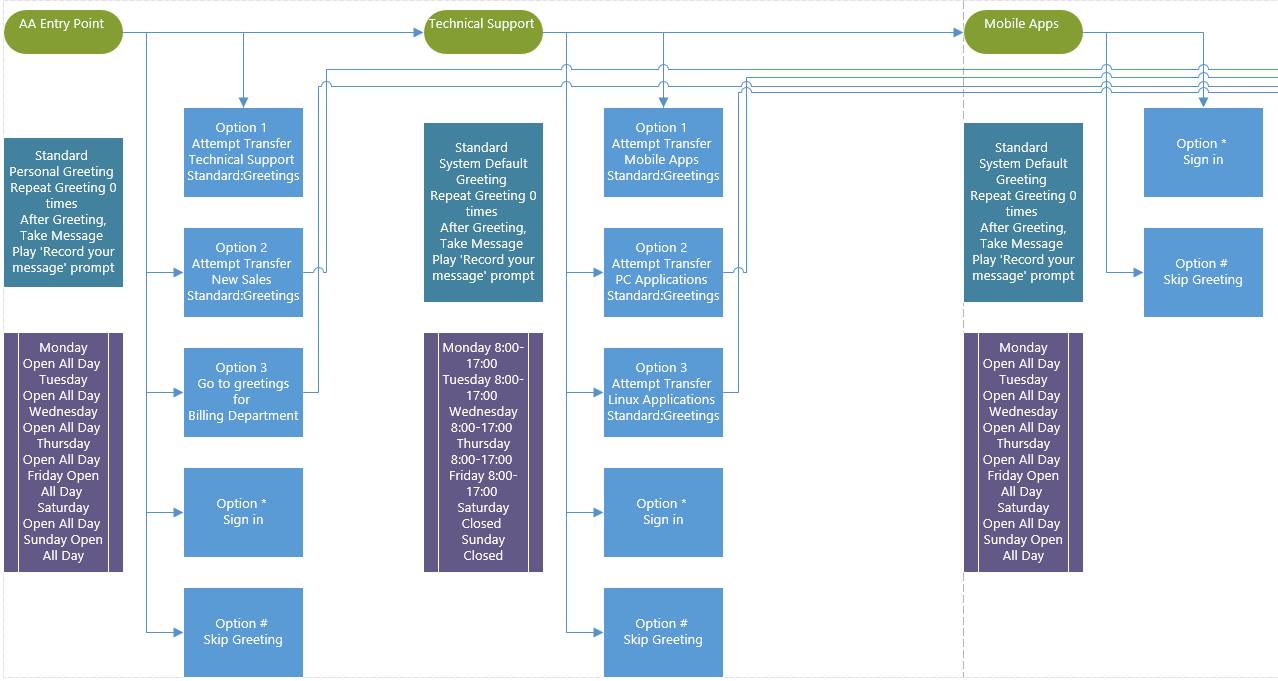 <![endif]>
Audiotext In Connection Training
Set of training vidoes that covers the audiotext (aka IVR) capabilities in Unity Connection - tools for creating, monitoring and troubleshooting audiotext applications are discussed and used in the videos as well as various common issues and how to deal with/detect them in production systems.
| | |
| --- | --- |
| Installing and configuring ODBC Access. Covers the basics of configuring a Unity Connection system for ODBC connectivity from off box. | ODBC Access Basics, 12 minutes. |
| Audiotext overview. Covers the basic objects that make up call processing capabiliteis for Unity Connection including call handlers, interview handlers, directory handlers, users and routing rules - demonstrates the ATM tool a bit and constructs a small audiotext application while also talking about various options and basic call flow through Connection. | Training Video - 60 minutes. |
| Audiotext object model deep dive. Explores the database relationships by navigating with CUDLI - more advanced coverage for TAC and development type folks. | Training Video - 53 minutes. |
| Audiotext troubleshooting. Covers the use of Remote Port Status Monitor (rPSM) and basic tracing for running down common problems with call routing and object relationship challanges in systems with complex audiotext applications. | Training Video - 30 minutes. |
| Free dialing extensions in Connection. Covers 3 different approaches to allowing users and outside callers access to dialing numbers that are not represented in the Conneciton database. | Training Video - 15 minutes. |
| Enabling a "snow day" feature in Connection using "Route from next routing rule" conversation option and leveraging the greetings administrator feature for remote access. | Training Video - 15 minutes. |
| Audiotext Manager Dianostics. Targeted at support folks - covers the back end database, logging and diagnostic opteions of the ATM utility itself. | Training Video - 25 minutes |